What is Plate Reverb? The 7 Best Plugins for Authentic Sound
Plate reverb was one of the first studio technologies for adding artificial ambience to a recording.
It changed how engineers viewed the art of mixing and ushered in an era of stylish reverb techniques.
But what exactly is plate reverb? What makes it unique and how can you capture its sound in your DAW? If you're just getting started with music production you might be wondering why this reverb type is so important.
In this article, I'll break down the basics of plate reverb and suggest 7 recommended plugins to suit any budget.
What is plate reverb?
Plate reverb is a method of artificial reverberation used to enhance the spatial qualities of a recording. It's created by sending a signal through a large metal sheet and capturing the results.
Plate reverb is known for its smooth and thick sound that was commonly used on vocals in the 60s and 70s.
The metal sheet used for the plate is typically large and heavy, meaning that plate reverb units were rarely seen outside high-end commercial studios.
These devices work by using transducers to convert the audio signal into vibrations that excite the metal. On the other side, a second set of transducers converts the vibrations back to audio.
Plate reverb yields a dense and harmonically focused reverb sound that gives the impression of room-like early reflections.
When it was first developed, it created a much more realistic reverb sound than previous technologies could achieve.
Plate reverb is known for its smooth and thick sound that was commonly used on vocals in the 60s and 70s.
Today, plate reverb is still sought after for its unique sound. To meet the demand, developers created DAW plugins to emulate its characteristic lingering decay and smooth density.
Why use plate reverb?
There are a lot of different types of reverb plugins you can use in your DAW.
From digital innovations like algorithmic and convolution to old school methods like spring and chamber, there are plenty of different approaches available.
But plate reverb is special because of its method of action. The vibrations in the sheet created by the transducers begin without a lengthy pre-delay and build up quickly like an acoustic space.
But instead of the excessive brightness you might encounter in a real room, plate reverb remains smooth and diffuse throughout its decay.
These qualities make it especially flattering for sources that risk becoming harsh with bright acoustic reflections like vocals and percussion.
The 7 best plate reverb plugins on the market
With the basics out of the way, you're probably wondering the best way to get the characteristic sound of plate reverb into your DAW sessions.
Here are seven of the best plate reverb plugins for any mixing situation.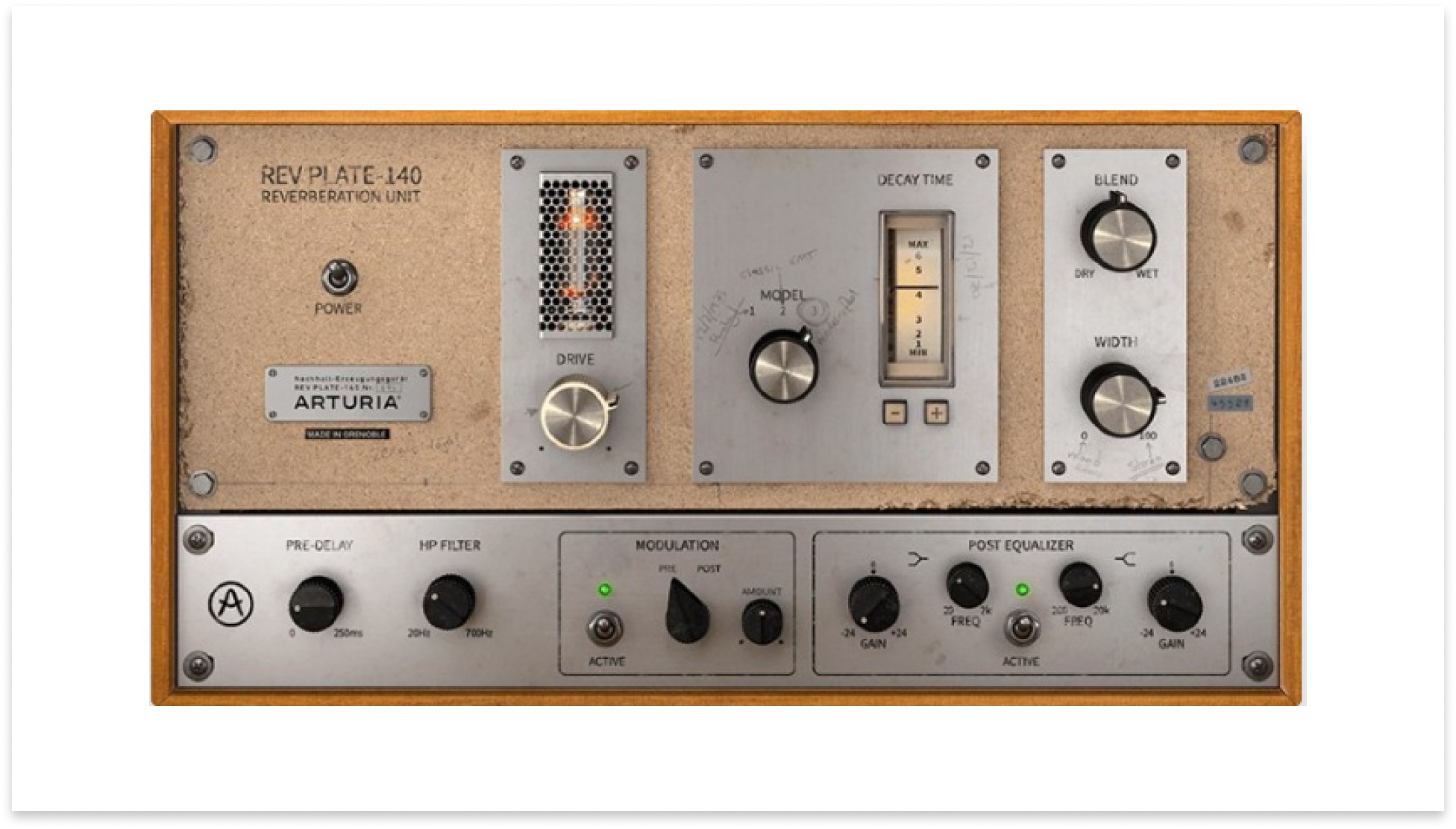 The EMT 140 is the king of hardware plate reverbs.
Weighing in at over six hundred pounds and powered by vintage vacuum tubes, it's revered for its use on classic albums like Pink Floyd's Dark Side of the Moon.
Arturia's take on this legendary reverb is spot on, with all the smoothness and elegance of the original hardware.
Hot tip: Arturia REV Plate 140 is now available with yearly subscriptions to LANDR Studio. You'll get all the best of the platform in addition to dozens of third-party plugins to build your producer pallet.
ValhallaDSP is known for offering affordable plugins with professional sound.
Developer Sean Costello has focused his product line on unique ambience effects and scientific approaches to emulation.
Today, plate reverb is still sought after for its unique sound.
That's what makes Valhalla Plate such a great option. It features multiple algorithms that emulate different types of plate material.
From conventional choices like steel and brass to wild options like lithium, Valhalla Plate offers a unique approach.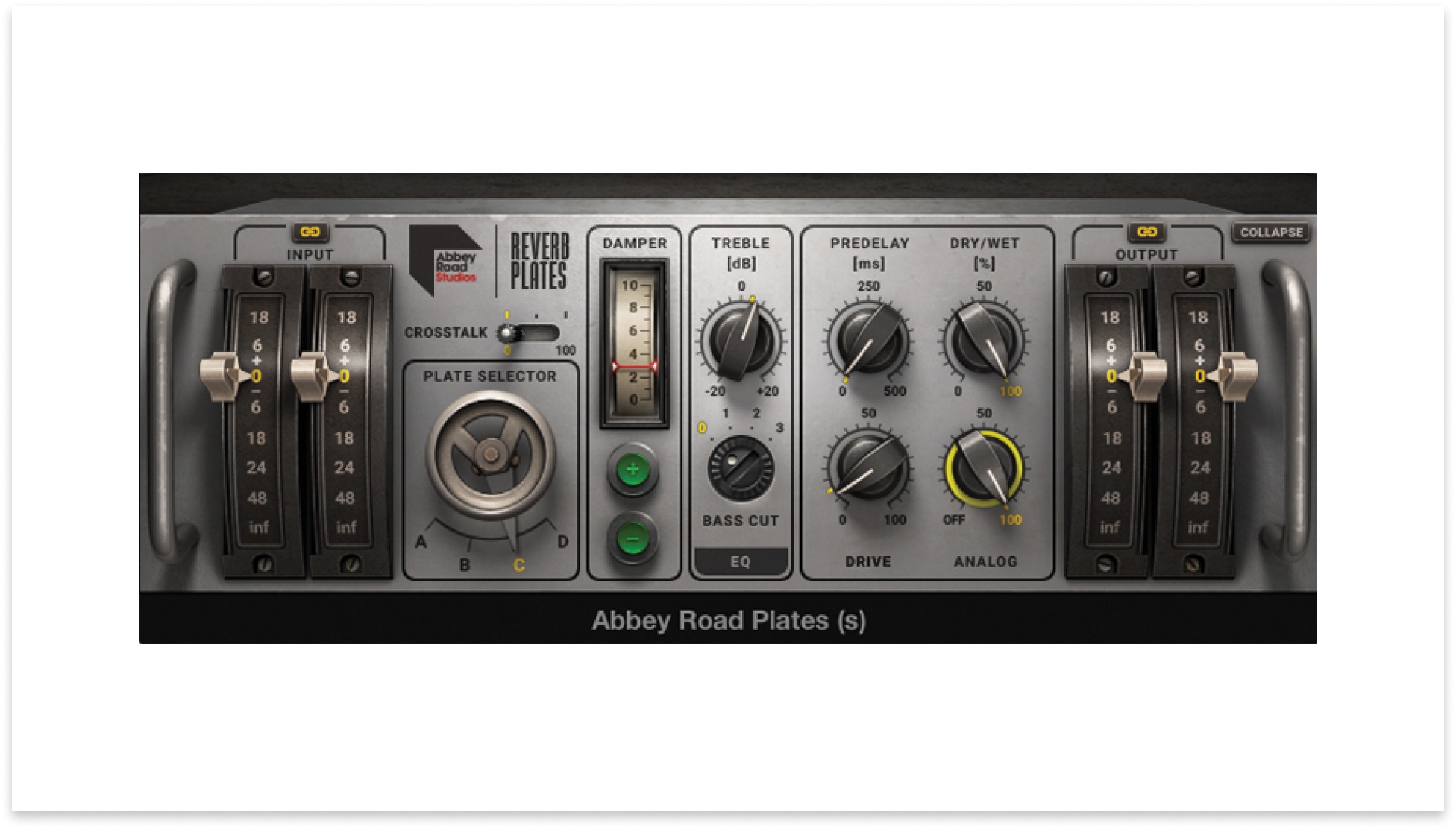 Abbey Road Studios is a legendary name in music history and music technology.
Many of the innovations that led to today's recording workflow were pioneered there in the golden age of analog recording.
Their collection of customized plate reverbs acquired its own reputation throughout the years.
Waves Abbey Road Plates gives you exclusive access to the sound of the iconic studio's reverb, complete with three different plate types with different characteristics.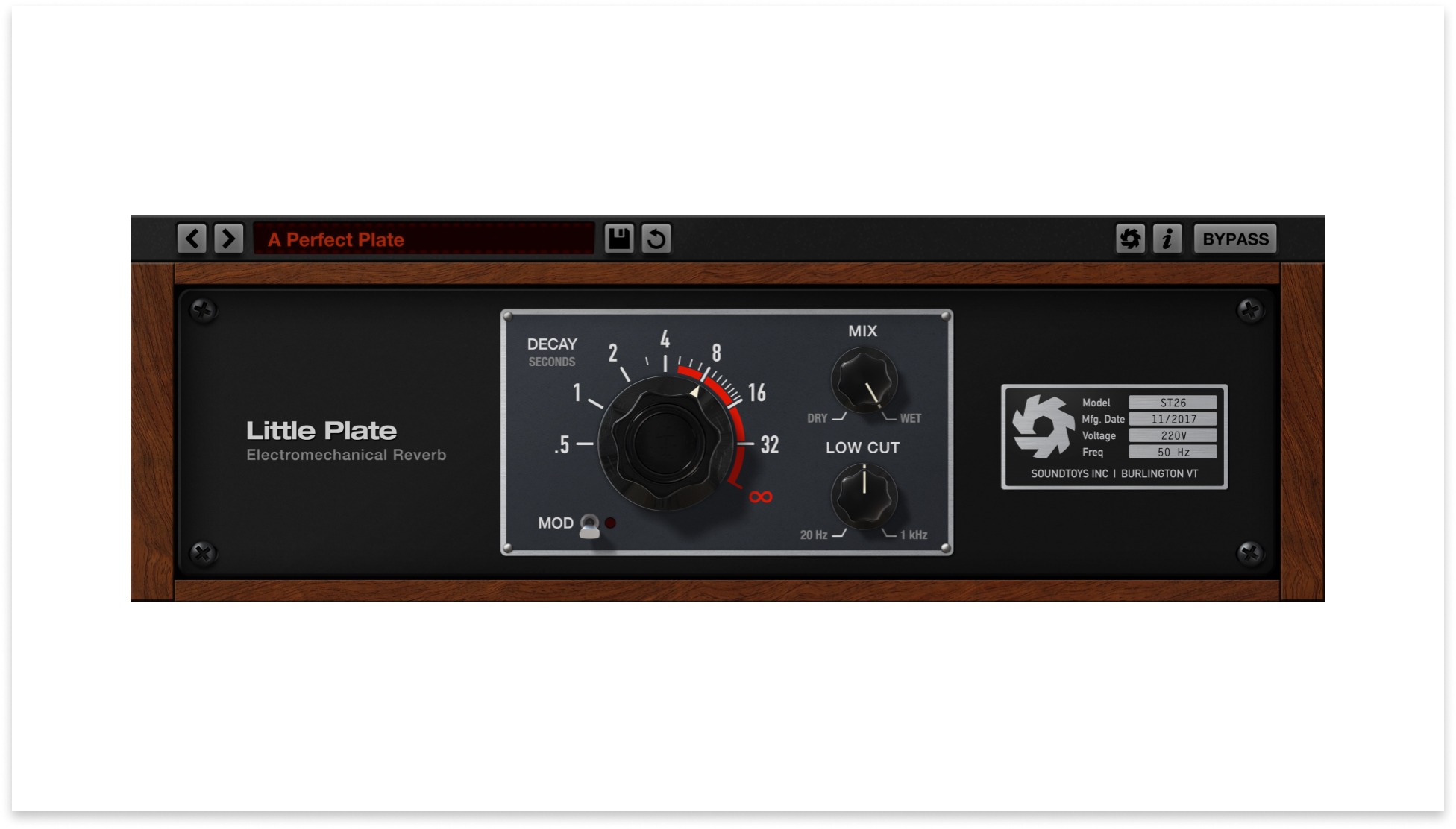 Sometimes simplicity and great sound are better than endless parameters.
Sometimes simplicity and great sound are better than endless parameters.
That's the approach with Soundtoys Little Plate.
With simple controls for mix, decay time and low cut along with a single toggle switch for modulation, Little Plate doesn't take long to dial in.
If you're looking for a quick way to get plate tone into your tracks, Little Plate should be on your list.
Hot tip: Want more gear guides, plugin roundups and mixing tips? Subscribe to the LANDR Newsletter to get the best posts in your inbox.
Never miss a post from the LANDR Blog.
Get the newsletter weekly.

TAL Reverb 4 is often mentioned on best free plugin lists.
It's a plate-style reverb with an interesting 80s modulation character that sounds great in lots of mixing situations.
If you need a free solution and you're not trying for a perfect vintage plate sound, TAL Reverb 4 is worth considering.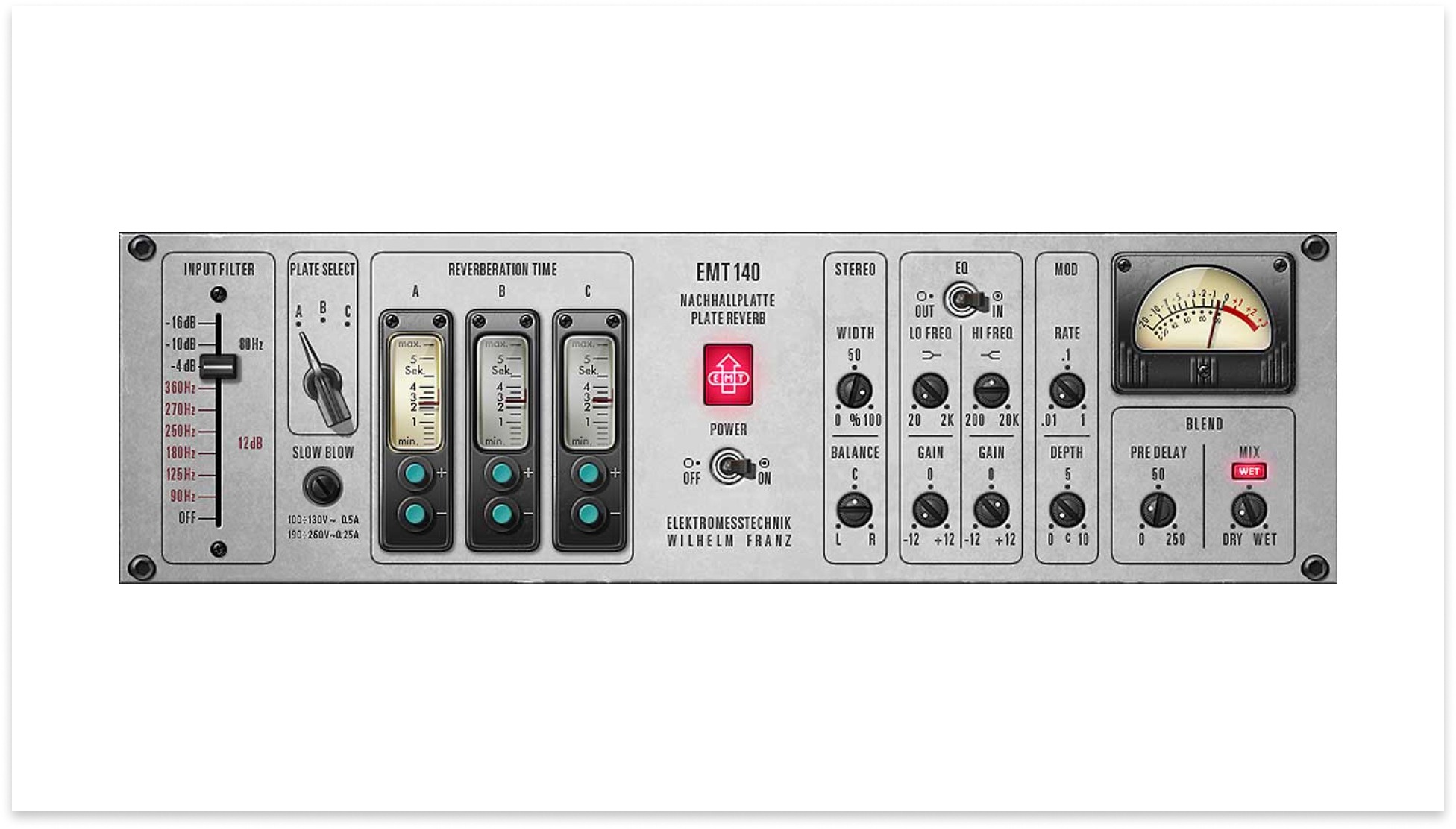 UAD is famous for its authentic software emulations of some of the most sought after music equipment in history.
Its approach to the EMT 140 Plate is no different, with painstaking attention to detail.
Including a handy shelving EQ and subtle modulation, it also gives you customization options for a modern mix.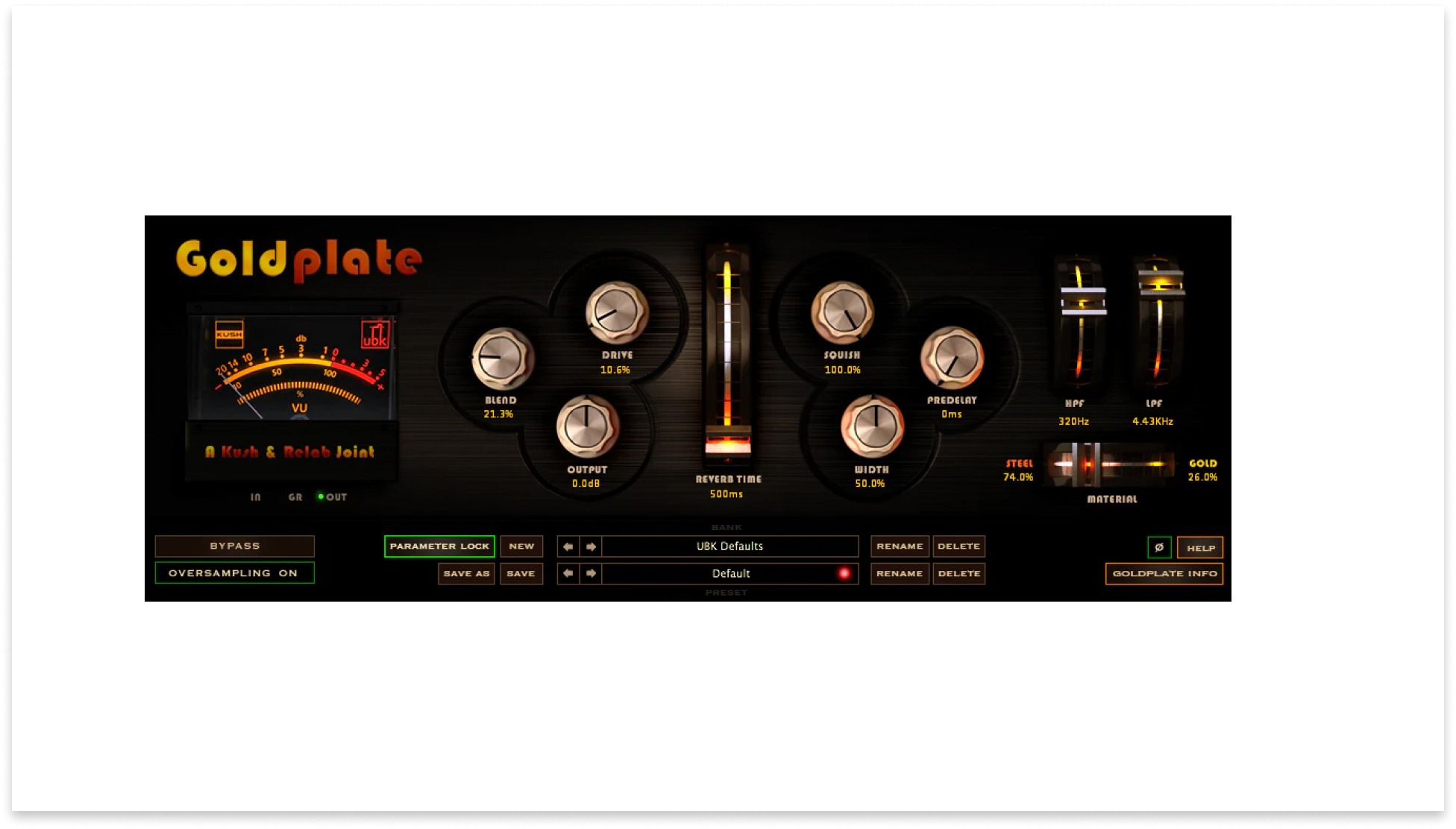 Kush Audio's Goldplate is a collaboration with reverb experts Relab.
But in true Kush Audio fashion it includes features for adding rich saturation and compression to the reverb tail.
If you need a plate with plenty of character on tap, Goldplate could be the right choice.
Smooth vintage reverb
Plate reverb is a classic sound that remains in use today.
Artificial reverb technology has advanced, but savvy producers still covet the special qualities of the original hardware.
Luckily there are plenty of excellent plugins to give you the authentic sound of plate reverb in your DAW.
If you've made it through this article you'll have an excellent selection of plate reverbs plugins to choose from.
Michael Hahn is an engineer and producer at Autoland and member of the swirling indie rock trio Slight.
Gear guides, tips, tutorials, inspiration and more—delivered weekly.
Keep up with the LANDR Blog.