The 8 Best USB-C Audio Interfaces in 2022
Your audio interface is the centerpiece of your home studio setup.
It's where you'll connect your microphones, instruments, headphones, studio monitors and more.
With such an important decision, it's essential to choose the right interface for your needs as a producer.
If you're buying your first one, or shopping for an upgrade, you might have seen USB-C audio interfaces in stores or online.
This new USB connector type is becoming more common, so it's no surprise that it's starting to appear on audio hardware.
But what exactly is USB-C? Which interfaces have it, and which one should you choose?
In this article I'll explain everything you need to know and suggest 8 recommended interfaces for any budget.
Hot tip: Want more gear roundups, tech explainers and producer tips? Subscribe to the LANDR Newsletter to never miss a post.
Never miss a post from the LANDR Blog.
Get the newsletter weekly.
What is USB-C?
USB-C is the latest connector type for the USB standard of data transfer.
USB was originally created to standardize communication between computers and peripheral devices like mouses and keyboards.
But it was quickly adopted for other tasks like allowing musicians to record with their DAWs.
When it was first introduced, USB had two connector styles—Type A and Type B.
Type A are the recognizable rectangular jacks that seem impossible to orient on the first try. Type B are the longer, skinnier barrel plugs that are often found on the device side of a legacy USB connection.
USB-C is the latest connector type for the USB standard of data transfer.
USB-C does away with the different types so that both ends of the cable use the same connector. It's also reversible, so you'll never have to worry about inserting it wrong again.
USB-C also allows for greater current delivery, meaning your power hungry devices can run more demanding analog circuits without running out of juice.
The latest edition of the data transfer protocol behind the scenes is called USB4. It's a next gen technology that started to appear in devices in 2021.
That said, most common peripherals (including audio interfaces) are powered by USB 3.0 or lower. Even USB 2.0 devices still provide enough speed for most music production tasks.
USB-C vs. Thunderbolt
If you've ever shopped for an audio interface before, you might have also seen Thunderbolt connections on high-end units.
For the current generation of devices, USB and Thunderbolt use the same USB-C connector type.
For the current generation of devices, USB and Thunderbolt use the same USB-C connector type. But that doesn't mean they're the same!
Thunderbolt was created as a successor to Firewire. It's even faster than USB4 with more bandwidth available for super heavy tasks.
The extreme data speeds available in Thunderbolt 3 or 4 connections make it possible for this cable type to transmit data to multiple high-resolution displays or even run an external graphics card.
While this may make Thunderbolt seem like the superior choice, most producers will do just fine with USB.
In fact, USB may offer better compatibility since Thunderbolt ports aren't found on all computers.
The 8 Best USB-C Audio Interfaces for Producers
With the basics out of the way, here are the top picks for USB-C audio interfaces in 2022.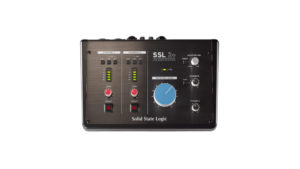 Legendary console builder SSL entered the audio interface market with the excellent 2+ USB-C interface.
It features the respected SuperAnalogue preamp technology as well as pristine AD/DA conversion capable of up to 24bit/192 kHz quality.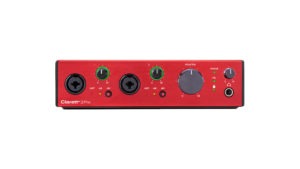 Clarrett is the premium portable interface offering from Focusrite. It's available in a number of configurations that support USB-C connectivity
Both the Clarrett and Scarlett series have made the switch to USB-C, but the Clarrett is our pick for its more powerful preamps and cleaner converters.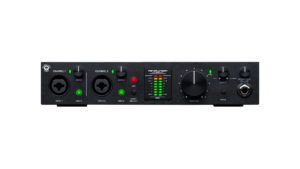 Black Lion is known for offering modifications and improvements to popular prosumer audio gear.
With the introduction of the Revolution 2×2, they're bringing that experience to an original design that promises superior sound.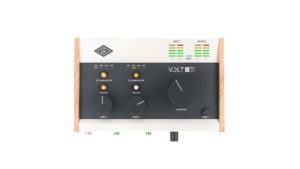 Traditionally considered a high-end brand, Universal Audio showed up with a line of budget interfaces just last year.
These stylish units boast technology from the wildly popular Apollo series, including 76-style compression on board.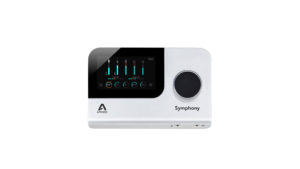 Apogee practically invented the desktop interface format with its iconic Duet design way back in 2007.
Every generation of USB technology enhances the possibilities for desktop audio interfaces.
At that time, the Symphony was among their top-of-the-line studio products. But now the incredible quality of the Symphony series is available in a desktop format.
If you need multiple channels of I/O with uncompromising conversion, Symphony is the most compact way to get it.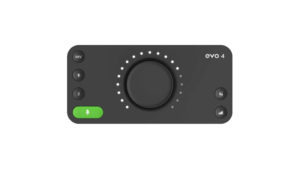 British manufacturer Audient has offered small-format interfaces for years with their excellent iD series.
But the brand's newest creation is the USB-C driven EVO line that promises to make recording simpler and more convenient.
If you're looking for a beginner interface that you won't outgrow too fast, EVO is a top choice.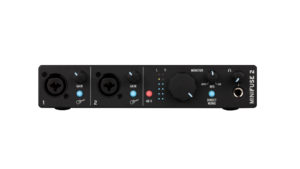 Arturia debuted the Minifuse series of capable, feature-rich interfaces several years ago.
With the MiniFuse 2, the French audio company has taken the design to the next level, including the addition of USB-C connectivity.
Featuring MIDI I/O and a bundle of complimentary software, Minifuse 2 is another top choice for creators.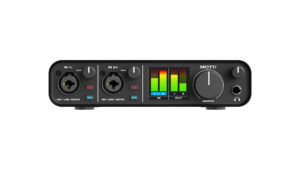 MOTU is back with quality interface tech in their compact M-series that includes 2 and 4 channel editions.
Alongside the rugged build quality, you'll find a powerful onboard loopback system for zero latency monitoring.
It's a convenient feature that can make recording feel more natural and immediate.
USB ABCs
Every generation of USB technology enhances the possibilities for desktop audio interfaces.
As connections get faster and more compact, new designs and performance standards become possible.
If you're looking into USB-C audio interfaces, you'll find some of the best examples yet on this list.
Michael Hahn is an engineer and producer at Autoland and member of the swirling indie rock trio Slight.
Gear guides, tips, tutorials, inspiration and more—delivered weekly.
Keep up with the LANDR Blog.